Police confirm two members of the public were killed in London Bridge stabbing incident
– Met Police confirmed a man was shot dead after a stabbing incident, which resulted in the deaths of two…
---
– Met Police confirmed a man was shot dead after a stabbing incident, which resulted in the deaths of two members of the public – Police described it as a terrorist incident – Scotland Yard identify suspect as 28-year-old Usman Khan and confirm he was convicted for terrorism offences in 2012.
A man and a woman were killed and several other people wounded in a stabbing attack on London Bridge by a convicted terrorist known to police.
Police fatally shot the attacker, who was wearing a fake suicide vest, after several people were stabbed at about 2pm on Friday.
The assailant, named as 28-year-old Usman Khan, was convicted in 2012 for terrorism offences and released from prison in December 2018 on licence, Metropolitan Police Assistant Commissioner Neil Basu said.
The attacker had links to al-Muhajiroun, the group led by Anjem Choudary and dubbed Britain's "most prolific and dangerous extremist group", The Independent understands. Al-Muhajiroun was regenerating after a number of supporters were released from prison, this website reported in February.​
Mr Basu said: "The circumstances, as we currently understand them, are that the attacker attended an event earlier on Friday afternoon at Fishmongers' Hall called 'Learning Together'.
"We believe that the attack began inside before he left the building and proceeded onto London Bridge, where he was detained and subsequently confronted and shot by armed officers.
"Extensive cordons are likely to remain in place for some time and I would ask the public to continue to avoid the area.
"Public safety is our top priority and we are enhancing police patrols in the City and across London."
The Times reported the attacker was attending a Cambridge University conference on prisoner rehabilitation at Fishmongers' Hall, at the north end of the bridge, and had threatened to blow up the building. The Ministry of Justice (MoJ) has ordered a review into the attack having learnt of the perpetrator's identity soon after it took place, the paper further reported.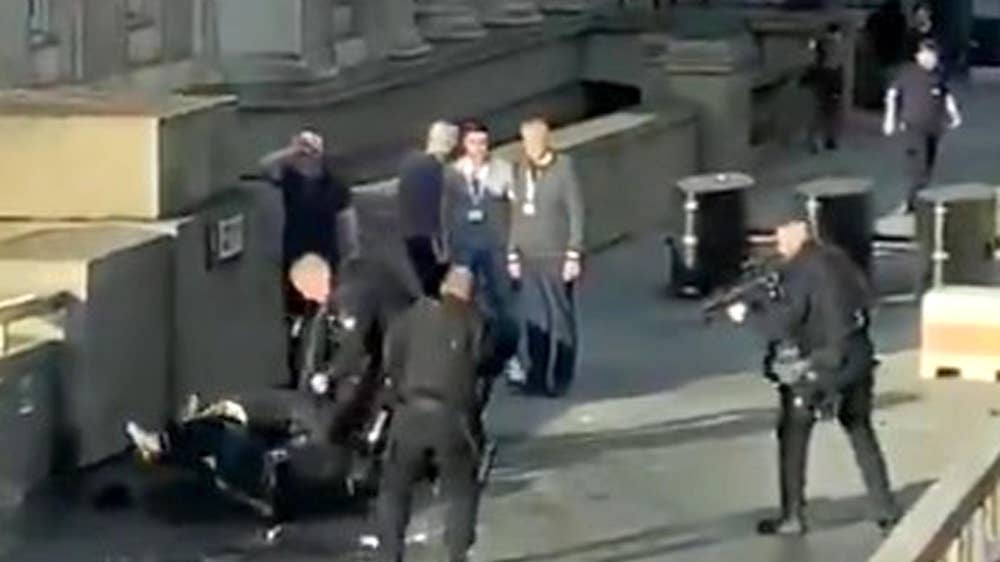 The attack started shortly before 2pm near the north side of London Bridge, in the City of London.
The terrorist stabbed several people before being detained by members of the public, who were praised for their heroism after pinning him down on the ground.
He was then killed by police.
Speaking outside New Scotland Yard on Friday evening, Cressida Dick, the Metropolitan Police commissioner, said that two people had died and three other people, later confirmed as a man and two women, were being treated in hospital. One was still in a critical but stable condition, the NHS confirmed.
Ms Dick said: "I am deeply saddened and angered that our city has again been targeted by terrorism.
"Fighting terrorism takes effort and determination from all of us. If you have any information or concerns, please do contact us.
"The empty ideology of terror offers nothing but hatred and today I urge everyone to reject that. Ours is a great city because we embrace each other's differences. We must emerge stronger still from this tragedy."
The attack came just weeks after the UK terror threat was downgraded from severe to substantial, after anti-terror chief Neil Basu said there had been "positive developments in reducing the threat from terrorism".
At the time, he said officers were still working on about 800 live counterterror investigations, after foiling 24 plots since the Westminster attack in March 2017.
Footage filmed from a bus on London Bridge showed several members of the public struggling with the man on the floor during Friday's attack.
"He has a knife," one passenger said as armed police approached.
Officers could be heard shouting to the crowd as people started moving back.
A man carrying a large knife backed away from the scene, seconds before a police officer dragged a man attempting to restrain the suspect off him. A moment later, the suspect was shot.
A woman could be heard crying on the bus as people shouted "what the f***".
Police closed down a large area on both sides of London Bridge, with people either evacuated or told to stay inside offices, cafes and homes in the area. Cordons are expected to remain in place for some time, alongside a heightened police presence over the weekend.
Later on Friday afternoon, praise for those members of the public who had intervened flooded in from political and faith leaders. "They are the best of us," said London mayor Sadiq Khan, while the Archbishop of Canterbury called them "astonishingly brave".
Boris Johnson also hailed the efforts of those who intervened, as well as emergency workers. He added that "anyone involved in this crime, these attacks, will be hunted down and will be brought to justice".
In a television interview the prime minister added: "The message we send to them and to anyone associated with this type of attack is one that will be familiar. And that is that this country will never be cowed, or divided, or intimidated by this sort of attack, and our values, our British values, will prevail."
The incident happened mere metres away from the site of the June 2017 London Bridge attack.
That saw three Isis supporters plough a hired van into pedestrians on the bridge, before going on a stabbing rampage in nearby Borough Market.
They killed eight people before being shot dead by armed police.
The attack, which was the third Islamist atrocity to hit the UK in 2017, caused barriers to be put up on London Bridge and other major crossings over the Thames.
A coroner's report into preventing future deaths warned that others could die unless authorities made changes.
After presiding over inquests into the deaths of the victims and perpetrators, Mark Lucraft QC, the chief coroner of England and Wales, called for MI5, counterterror police, the government and other authorities to take "action to prevent future deaths".
He raised concern about the way potential lone terrorists are assessed by the security services, and was critical of the failure to instal barriers on London Bridge before the attack.