California bans private prisons and detention centers
California Governor Gavin Newsom signed a bill that bans private prisons and immigrant detention facilities from operating in California by…
---
California Governor Gavin Newsom signed a bill that bans private prisons and immigrant detention facilities from operating in California by 2028.
@GavinNewsom signed AB32 to stop private, for-profit prisons and immigration detention facilities in California.

The state's ban on private prisons is now officially law. It applies to all private detention centers, including those used by ICE to hold immigrants facing deportation. Assemblymember Rob Bonta just issued a statement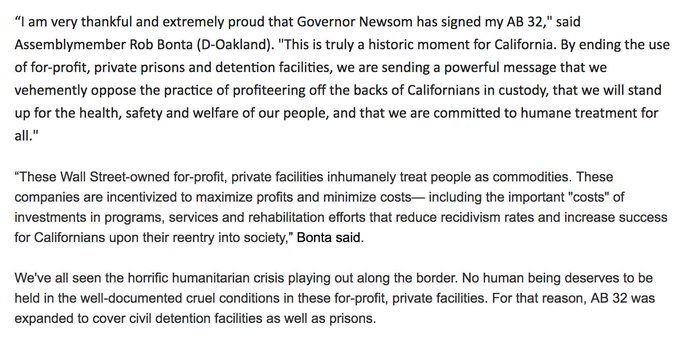 The state now houses about 1,600 inmates in three prisons in Kern and San Bernardino counties, run by the Florida-based GEO Group. Under the new law, California cannot renew those contracts, which expire in 2023, or enter into new ones after this year unless it needs them to keep the prison population under a court-ordered cap.