Justice Department confirms that McGahn and Trump Jr. did not testify before Mueller grand jury
On Sunday, the US Department of Justice said that Donald Trump Jr and former White House counsel Don McGahn did…
---
On Sunday, the US Department of Justice said that Donald Trump Jr and former White House counsel Don McGahn did not testify to a grand jury in the Mueller investigation.
The Justice Department confirmed Sunday that Donald Trump Jr. and former White House counsel Don McGahn did not testify to a federal grand jury during the Mueller probe.Though the details — revealed Sunday in a newly unredacted court filing — don't come as a surprise, they mark a rare public confirmation of the parameters of the grand jury former special counsel Robert Mueller used for two years.
A judge had ordered the details to be revealed in an ongoing court battle between the House of Representatives and the DOJ. In the case, the House is seeking secret grand jury information and FBI memos of witness interviews from the Mueller probe as part of its impeachment inquiry into President Donald Trump."Don McGahn did not testify before the grand jury," a Justice Department attorney wrote in an affidavit filed in court. And later: "Donald Trump Jr. also did not testify before the grand jury." Parts of the affidavit remain redacted.McGahn and Trump Jr. were never widely believed to have testified to the grand jury, and Chief Judge Beryl Howell ruled recently that the Justice Department stating as much in court wouldn't violate the grand jury's secrecy, which is extensively protected by law.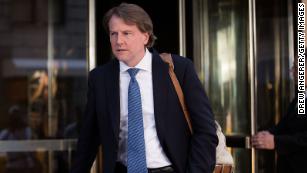 Former White House counsel Don McGahnThe House has argued it may use what McGahn told Mueller's team in its impeachment inquiry, especially as it considers whether an article of impeachment against the President should include obstruction of justice.McGahn was extensively interviewed by Mueller's prosecutors.
The Ukraine text messages, annotated His many sittings with the FBI became central to the narrative Mueller told in his report, describing how Trump attempted to rattle the Russia investigation several times and expressed his anger with the special counsel. And Trump Jr, though not a witness Mueller used, was a central player in another tentpole of the investigation, the reconstruction of a June 2016 meeting at Trump Tower in New York between top campaign officials, including Trump Jr. and Russians.Trump was not charged with any crime nor investigated by the grand jury, including for obstruction of justice, largely because Mueller determined a sitting President cannot be prosecuted under Justice Department policy.
Mueller, however, wrote detailed analysis in his report that showed Trump's actions met the legal elements of an obstruction crime several times. Federal grand juries are used to compel reluctant witnesses to testify, to subpoena documents and to consider bringing charges.
Trump Jr. was not interviewed by Mueller's prosecutors as is noted in Mueller's final report. Trump Jr. was investigated for a possible campaign finance violation by Mueller but was not charged with any crime.CNN had also previously reported that McGahn was extensively interviewed by Mueller's prosecutors.
McGahn became a key witness in Mueller's effort to consider whether the President obstructed justice. Mueller, however, never took questions related to that obstruction probe to the grand jury.The Special Counsel's Office only used its grand jury, operating out of Washington, DC's federal court, to investigate Russian interference in the 2016 presidential election and related crimes, including those committed and later admitted to by former Trump campaign chairman Paul Manafort.The newly unredacted court filing notes that some people whom Mueller questioned about the President's possible obstruction of justice spoke to the grand jury under oath separately in the election interference investigation. Those people are not named, but may include Manafort.